SeniorLAW Center is happy to announce Bill & Shelli Fedullo are our Gala Chairs for the 2016 SeniorLAW Center "6 Over 60" Gala being held on Wednesday May 4, 2016 at the Crystal Tea Room.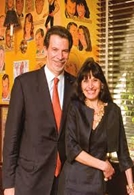 Bill served as the 87th Chancellor of the 13,000 member Philadelphia Bar Association in 2014 and Shelli has extensive leadership in planning the annual Bench Bar Conference in the past. They are exemplary leaders and incredible contributors to the community. You can read more about Shelli here and Bill here.
SeniorLAW Center is excited to have such great volunteers and partners and is looking forward to an amazing evening honoring remarkable older Pennsylvanians. More information is coming soon about our Gala, ways to sponsor and purchase tickets, whose being honored and more. Save the date for May 4, 2016 at the Crystal Tea Room in Philadelphia, PA.