Elder abuse is a global, national and local crisis affecting us all, every culture, income, race, and community. World Elder Abuse Awareness Day (WEADD) was launched on June 15, 2006 by the World Health Organization at the United Nations and the International Network for the Prevention of Elder Abuse and the World. It aims to provide an opportunity for communities around the world to promote a better understanding of abuse and neglect of older persons by raising awareness and strategizing on responses.
Elder abuse is a public health and human rights issue. It includes physical abuse, sexual assault, psychological abuse, neglect and financial exploitation, and affects every culture, race, economic sector and community. Elders who have been abused are 3x more likely to die prematurely. Each year an estimated 5 million older adults are abused, neglected or exploited in the U.S. but we know there is vast underreporting, some estimating that only 1 in 44 cases is reported. Older Americans lose over $2.9 billion each year due to elder financial exploitation. Simply put, elder abuse shatters lives and families.
SeniorLAW Center is proud to provide expansive legal services to victims of abuse, as well as preventative education, supportive services and advocacy. Learn more about our work here.
World Elder Abuse Awareness Day is celebrated globally on June 15th annually. We will be participating in a number of WEADD related events through June. Join us to express outrage, change our culture of paternalism and abuse, and help find creative solutions.
Join us in saying that older people should be valued, respected and appreciated, not abused.
WEADD EVENTS 2018
Fourth Global Summit on Elder Abuse
June 5, 2018, Security and Exchange Commission, Washington, DC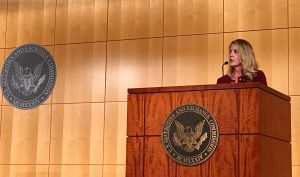 SeniorLAW Center's Executive Director Karen C. Buck presented at the Summit on Global Journeys in Elder Justice, about our work in elder abuse and her meetings with leaders in law, aging and government (and older people themselves) in far corners of the world through an Independence Foundation Fellowship to learn and share best practices about elder justice and protecting elder rights.
Elder Justice Committee WEADD Press Conference
June 12, 2018, First Judicial District, Elder Justice Resource Center, City Hall, Philadelphia, PA
SeniorLAW Center will be speaking at the press conference and public event starting at 9:30am in the Elder Justice Resource Center in City Hall 278. Press Conference starts at 10am.
Montgomery County Elder Access to Justice Roundtable Annual WEAAD Conference
June 15, 2018, Montgomery County Community College, Blue Bell, PA, 9am – 4pm. Reservations required.
SeniorLAW Center, EXELON LEGAL, PECO and Blank Rome LLP team up to serve Hispanic Seniors in their own language and community
SeniorLAW Center is proud to hold its 9th Annual Hispanic Seniors Life Planning bilingual legal clinic with Exelon Legal, PECO, Blank Rome LLP and other volunteers on Friday, June 15th at Antonia Pantoja Charter School (4101 N. American Street, Philadelphia, PA 19140) from 9:00 to 1:00 pm. The goal is to counsel and assist older adults in their own language with the preparation of critical life planning documents, including wills, financial and health care powers of attorney and living wills. These empowering documents are of vital importance to their lives as they contemplate their future needs and those who they can count on to help them as they age. All services will be available in Spanish.
Please call Margarita Martinez, SeniorLAW Center Hispanic Legal Services and Community Clinics Coordinator at 215-701-3211 mmartinez@seniorlawcenter.org and Wendy Bookler at 215-701-3205 wbookler@seniorlawcenter.org
SeniorLAW Center Seminar on Financial Exploitation
June 19, 2018, Montgomery Township Community and Recreation Center, Montgomeryville, PA, 7pm – 9pm
Senior Citizens may be more likely to fall victim to financial exploitation due to disability, cognitive decline or other life changing events. Education and awareness are vital to preventing elder financial exploitation. Learn how to recognize red flags, scams targeting this demographic, and best practices to protect against becoming a victim. Presented by MacDonald P. Taylor, Jr., SeniorLAW Center. MacDonald is currently an Elder Victim Legal Advocate for Bucks and Montgomery Counties.
Combatting the Financial Exploitation of Seniors
June 22, 2018, Federal Reserve of Philadelphia, 8:30am – 12pm
The Philadelphia Financial Exploitation Task Force presents: Combatting the Financial Exploitation of Seniors on Friday, June 22, 2018 from 8:30am – 12pm at the Federal Reserve of Philadelphia. Please note: the target audience for this event is financial institutions.