SeniorLAW Center is proud to partner with the Lawyers Serving Warriors® program of the National Veterans Legal Services Program, Center in the Park, Morgan Lewis and Exelon to serve veterans. NVLSP will present a "Know Your Rights" informational session on how to correct military records and upgrade less than fully honorable discharges at 10 am. New mil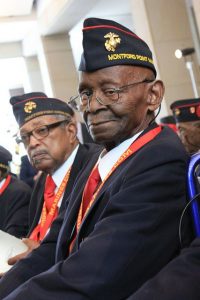 itary policies allow reconsideration of discharges, no matter how long ago they occurred. Seniors have a lot to gain from learning about the new policies.
Veterans will have the opportunity to meet with an attorney. Individual appointments will be scheduled from 11:15 am till 2:15 pm. Light refreshments provided.
Veterans can schedule an appointment by calling 202.621.5716 or emailing info@nvlsp.org. Help us plan for your participation. Walk-ins are also welcome!
Please bring DD Form 214 and any other documents you have.
The event will take place at Center in the Park, located in historic Vernon Park in Germantown, Northwest Philadelphia (parking entrance off West Rittenhouse Street). CIP is an active and vibrant community center that promotes positive aging and fosters community connections for older people. SeniorLAW Center and the National Veterans Legal Services Program, along with pro bono support from Morgan Lewis, and Exelon, will provide the legal education and services. Join us!
For more information, click here.