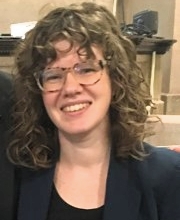 Kate Dugan joined SeniorLAW Center in November 2018 as a staff attorney for the Homeownership Rights project. She provides legal services relating to mortgage foreclosure, real estate taxes, fraudulent conveyances, deed transfers, probate, and other issues affecting senior homeowners.
Prior to joining SeniorLAW Center, Kate was the law clerk in the Philadelphia County Court of Common Pleas for the City's nationally-recognized Residential Mortgage Foreclosure Diversion Program under the supervision of the Hon. Rosalyn K. Robinson. From 2017-2018, Kate also sat as the Master for the Court's Rule Returnable Property Tax Program, which she helped to develop. Kate gave presentations and trainings to attorneys, housing counselors, and judges pro tem on behalf of the Court of Common Pleas on various issues related to foreclosure and homeownership.
Kate received her Juris Doctorate from Temple University Beasley School of Law in May 2007 and her Bachelor of Arts degree from Brandeis University in May 2003.