SeniorLAW Center is proud to be participating in WEAAD (World Elder Abuse Awareness Day) in several ways during the month of June. See the below events that SeniorLAW Center helped lead, present and plan! #weaad #elderjustice
Legal Assistance for Older Pennsylvanians Conference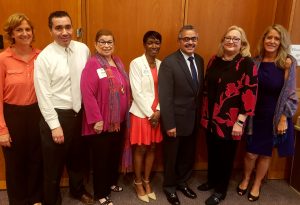 SeniorLAW Center, in partnership with the PA Department of Aging and Community Legal Services, hosted PA's first "Legal Assistance for Older Pennsylvanians Conference" on June 6, 2019. Over 70 professionals in the legal and aging services networks gathered in Harrisburg to share information and ideas on such topics as financial exploitation, guardianship and elder abuse. Audience members were treated to the valuable perspectives of PDA Secretary Robert Torres and the U.S. Administration for Community Living's Omar Valverde on critical issues facing vulnerable older Pennsylvanians. Presenters included keynote speaker Justice Debra McCloskey Todd, Superior Court Judge Paula Francisco Ott, PDA's Deborah Hargett-Robinson, Denise Getgen and Margaret Barajas, SeniorLAW Center's Karen Buck, Wendy Bookler, and Dana Goldberg, Community Legal Services' Pam Walz, Dickinson Law Professor Katherine Pearson, and CARIE's Diane Menio, and other colleagues from Disability Rights PA, the PA Attorney General's office and several Area Agencies on Aging.
Hearing on Elder Abuse and Legal Issues Challenging Seniors in Delaware County
SeniorLAW Center's Executive Director Karen C. Buck presented testimony at the June 6, 2019 Hearing on Elder Abuse and Legal Issues Challenging Seniors in Delaware County, hosted by State Senator Tim Kearney with Congresswoman Mary Gay Scanlon, State Senator Tom Killion and other legislative leaders, addressing the crisis of elder abuse and financial exploitation, guardianship, and grandparents raising grandchildren at the Delaware County Intermediate Unit in Morton, PA. They were joined by Delaware County SeniorLAW Center staff Elizabeth Schneider, Esq. and Janet Baldo, SeniorLAW Center Director of Victim Services Dana Goldberg, Esq. and a host of fellow experts in aging and the law including COSA Director Denise Stewart, District Attorney Katayoun Copeland, LASP attorney Christina Drzal, Dr. Robin Goldberg-Glen of Widener University, LGBT advocate Terri Clark, Register of Wills Mary Walk, and others. To read the full testimony, click here.
World Elder Abuse Awareness Day 2019: Charting the Course to Battle Elder Financial Exploitation
June 7, 2019
8:30 am- 12:00 pm
Federal Reserve of Philadelphia
10 N. Independence Mall West, Philadelphia, PA 19106
SeniorLAW Center is a proud member of the Philadelphia Financial Exploitation Prevention Task Force. SeniorLAW Center sat on the planning committee for this year's World Elder Abuse Awareness Event to be held June 7th at the Federal Reserve in Philadelphia. Keynote and breakout sessions include topics on "Safe Banking for Seniors", "Best Practices for Preventing and Detecting Financial Exploitation," and "Future Thinking: Preventing and Detecting Financial Exploitation."
Elder Abuse and Financial Exploitation Presentation at Chinese Christian Church in English and Mandarin
June 9, 2019
2:00 pm- 4:00 pm
Chinese Christian Church & Center
1101 Vine Street, Philadelphia, PA
SeniorLAW Center's staff attorney Roseanne Milanes and legal advocate Yihe Zhou will present on topics about elder financial exploitation to the community at the Vine Campus of Chinese Christian Church on 1101 Vine Street in Philadelphia, PA. The presentation will be given in both English and Mandarin Chinese.
Montgomery County Elder Access to Justice Roundtable World Elder Abuse Awareness Day Event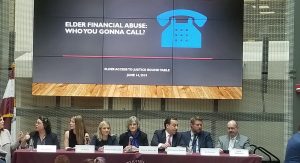 SeniorLAW Center is proudly celebrating our Montgomery County location's two-year anniversary. The Montgomery County office is located in Norristown, co-located with Theatre Horizon, nationally-acclaimed theatre which undertakes cutting edge contemporary theatre addressing issues of social justice, kids and autism drama programs and community involvement. Our Montgomery County team focuses on seeking justice for our seniors who have experienced elder abuse and financial exploitation, and the team has been busy assisting seniors who have been physically, emotionally and financially abused, as well as educating the community on elder abuse matters. The team assisted in the planning and preparation of the annual World Elder Abuse Awareness Day Conference sponsored by The Montgomery County Elder Access to Justice Roundtable, chaired by Judge Lois Murphy. SeniorLAW Center staff are active members of the Roundtable and also spoke at the conference, held Friday, June 14th at the Montgomery County Community College. This year's topic was on elder financial abuse and will included workshops for financial institutions and consumers.
Chester County Office Ribbon Cutting Ceremony
June 26, 2019
5:00 pm- 7:00 pm
SeniorLAW Center Chester County Office
780 East Market Street Suite 260, West Chester, PA
SeniorLAW Center is pleased to invite you to the Chester County Ribbon Cutting Ceremony taking place on Wednesday, June 26, 2019 from 5pm – 7pm. Please join Judge Paula Francisco Ott, Pennsylvania Superior Court and Mayor Dianne Herrin of West Chester, along with SeniorLAW Center staff at a wine and cheese reception celebrating our arrival in Chester County! RSVP: 610.910.0204