We Are Delighted to Announce our 2017 Honorees
SeniorLAW Center is delighted to announce its outstanding 2017 Honorees, to be presented at our May 17, 2017 GALA: Age Out Loud!
2017 SeniorLAW Center Honorees
---
Champion of the Year
A senior that has demonstrated leadership in championing and advocating for the rights of seniors and justice and made significant impact in improving and enriching lives.
Lawrence J. Beaser, Esq.

A trailblazer for justice and champion of the nonprofit and public interest law community, Larry has a deep and enduring commitment to access to justice, equal justice for all and service to the community and to the most vulnerable among us. SeniorLAW Center is proud to know him as a treasured partner, supporter, advisor and friend. Partner at Blank Rome LLP, long-serving Chair and now Chair Emeritus of the Philadelphia Foundation, former Chancellor of the Philadelphia Bar Association, and respected leader in so many diverse networks and professions, Larry's wise counsel, generosity and advocacy knows no equal. We are delighted to honor him with our prestigious Champion of the Year Award.
---
Partner of the Year
An organization, corporation or law firm that has collaborated and partnered with SeniorLAW Center in outstanding ways to protect and promote the rights of older Pennsylvanians and further SeniorLAW Center's mission.

Pennsylvania Commission on Crime and Delinquency is a valued and long-standing partner in SeniorLAW Center's work for elder justice, supporting our services for elder victims of abuse and financial exploitation for over 15 years. From services for senior veterans who are defrauded of the very benefits they earned through valiant service to our new expansion for Asian elder and other immigrant and Limited English Proficiency victims, and the opening of new SeniorLAW Center offices and new services on the ground in Montgomery, Bucks, Delaware and Chester counties, PCCD has made services for senior victims a priority, including in their new historic funding through the Victims of Crime Act (VOCA). PCCD has supported our collaborative work with our excellent partners at CARIE, to serve victims in long-term care and train professionals and consumers on how to identify and report abuse, and funded CARIE and SeniorLAW Center to train new elder victim advocates in the farthest reaches and rural communities of Pennsylvania. For their justice-related work in victim services and law enforcement partnerships, their efforts to raise awareness and services for senior victims, for making elder abuse a priority of Pennsylvania, SeniorLAW Center is proud to honor PCCD, its stellar staff and leadership as our Partner of the Year.

---
Volunteer of the Year
An individual who has made exceptional volunteer efforts and demonstrated outstanding commitment to serving the needs of SeniorLAW Center's clients.
Eric P. Sando, Esq.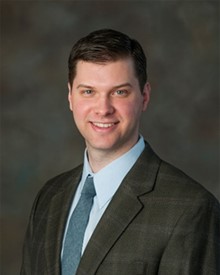 Exceptional pro bono attorney and associate at Earp Cohn P.C., Eric began serving SeniorLAW Center's elderly clients in need as a Public Service Fellow while at Drexel University's Thomas B. Kline School of Law (Class of 2014). As a brand new attorney, Eric took on a complex two-day trial for a grandmother, with the support and generosity of his firm and colleagues, obtaining successful verdicts for his client which saved her home, addressing fraudulent deed conveyance and a host of other problems. Bonus: this is the home where his client is raising her infant granddaughter. Read more here to learn about Eric's excellent lawyering and the impact on his client's life. As Eric notes: "[H]er story is not uncommon in our city. More volunteer attorneys from supporting firms are needed to continue to protect and advocate for the rights of indigent seniors suffering similar injustices in Philadelphia." With gratitude to Eric and everyone at Earp Cohn: you have changed lives. We are delighted to honor this young attorney with our Volunteer of the Year Award.