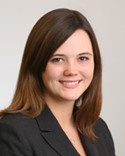 Catherine Beideman Heitzenrater (Kate) is a partner in the Philadelphia office of Duane Morris LLP. Kate practices in the areas of bankruptcy, corporate reorganization, creditors' rights, commercial finance and secured transactions. She represents insurance companies, secured creditors, chapter 11 debtors-in-possession, chapter 11 trustees, chapter 7 trustees, liquidating trustees and creditors' committees in all aspects of a bankruptcy case. She has also assisted creditors in enforcement of remedies through commercial litigation in federal and state court.
Kate graduated from Colgate University, magna cum laude, in 2004 with a B.A. in Political Science. She then went on to receive her J.D. from Boston College Law School in 2007, where she served as the Managing Editor of the Boston College Environmental Affairs Law Review. One year into her practice, Kate completed a year-long clerkship for the Honorable Joel H. Slomsky in the United States District Court for the Eastern District of Pennsylvania, and thereafter returned to Duane Morris.
Kate has an active pro bono legal practice, mainly representing women in complex immigration matters. Kate recently led a team that secured a grant of asylum for her client and her client's son who were fleeing terrible violence and personal tragedy in their home country. Kate has also represented numerous other pro bono clients in Violence Against Women Act and citizenship applications.
In addition to her legal work, Kate has also devoted substantial time to Duane Morris's recruitment and retention efforts, and to mentoring young lawyers. Kate has been active in her firm's summer associate program for many years, assisting summer associates in managing their workload and developing strategies for juggling complex assignments. Kate now serves as vice-chair of the Duane Morris Recruitment and Retention Committee.
Kate is eager to serve older people in Pennsylvania to help strengthen and support at-risk communities through SeniorLAW Center's mission of legal representation, education, and advocacy.